With my busy schedule, it's easy to say that I am Richmond, VA's favorite wedding officiant. Whether it's as a rabbi or civil celebrant, I am honored to help you.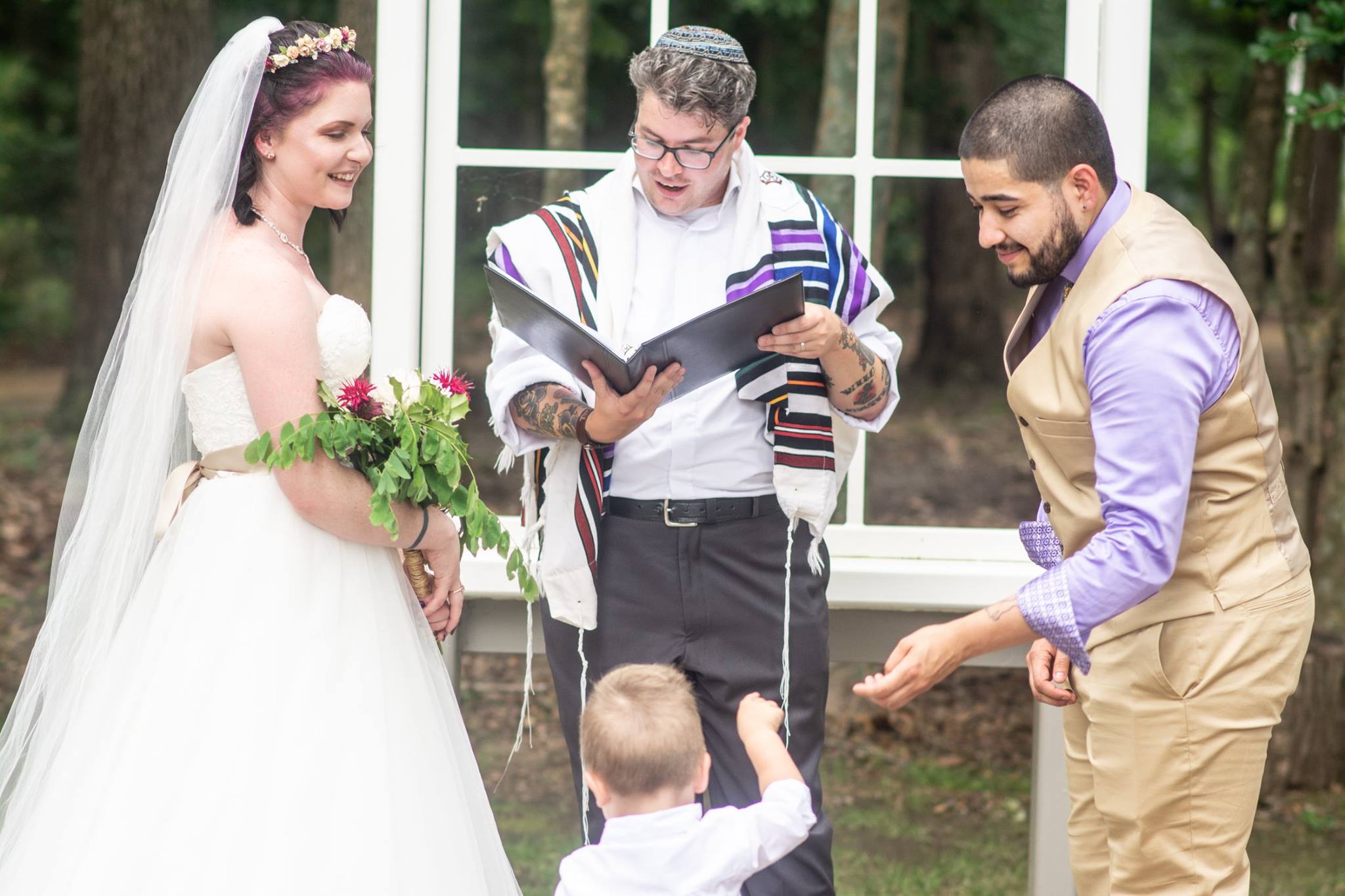 Searching for a Jewish wedding in Richmond, VA? Looking for a wedding officiant in Virginia who will perform LGBTQ weddings, interfaith weddings, weddings on Shabbat and other Jewish holidays, non-religious and non-Jewish ceremonies? I am honored to help you with zero judgements, whatsoever.
I serve Richmond, Charlottesville, Powhatan, Midlothian, Chester, Virginia Beach and Norfolk as well as Northern Virginia. I can be available for Washington, DC weddings as well as some cities in North Carolina and West Virginia.
My Approach
A wedding ceremony is an expression of who you are as a couple, your shared (and different) religious and cultural traditions, your values, and how you wish to express before your family and friends what it means to be married. We can make any changes you would like to reflect what you want your special day to be about.
Below you'll find information specific to Jewish weddings. But please reach out to me about non-denominational and non-religious weddings as well. I am honored to support you.
Also note that for LGBTQ+ weddings we can customize gender and gender neutral/inclusive language as well as rituals. I have been very active as an LGBTQ+ ally and you can learn more about LGBTQ+ weddings in Richmond on my website.
Jewish Wedding Options
Writing a modern Jewish wedding ceremony can be very meaningful to a couple. My job is to inform you of the many options you can have in your ceremony, and you get to pick-and-choose what you find important, as well as customize each element.
Generally, this is the outline we follow:
Opening Remarks Before Ceremony: good time for rabbi to say "turn of your cell phones" and "no photography"

Ketubah Signing: this can be done before the processional as its own separate service or after the processional as a single ceremony. Two Jewish non-relatives traditionally sign the Jewish marriage document but I am not strict about that at all. Ketubah can then be read as part of the ceremony. If you do the ketubah reading, couples usually skip the sheva brachot. Kiddush (wine blessing) can be done here or at the end of the ceremony as part of Sheva Brachot
Processional/Circling: traditionally the bride circles the groom seven times. Today, each partner can circle each other three times and once around chuppah together for an egalitarian circling
Rabbi's Introduction/Family: this is where I introduce you as a couple, to help people feel comfortable about being at a wedding where there may be traditions that they are not familiar with, and also this a good time to honor anyone who could not be present at the wedding (loved ones who have passed away or otherwise could not attend)
Chuppah: I can explain what the chuppah is and give a few words of Torah related to building/the power of home/etc. Ketubah done here if its not done beforehand
Your Personal Story: this is the core of the wedding ceremony. It is a custom taught to me by one of my teachers, Rabbi Bill Kurry of blessed memory.

Before the wedding, I send you each five questions answered separately. Do not share your answers when writing them! The questions are:

How did you meet? Alternatively, talk about your first experiences together
What do you love about the other person?
Share a memory that is meaningful to you (does not have to be happy or a crowd pleaser)
What are your hopes for the future?
Anything else you want to share?

I take your answers and craft them into the telling of the story of who you are as a couple

Exchange of Vows and Rings: there are a few options.

Write your own vows. These can also be read before the Jewish vows as personal statements to one another

"Harei at/atah" traditional vows. Related to consecrating one another under the "laws of Moses and Israel"

"Ani l'dodi" a genderless alternative with less Hebrew. "I am my beloved's and my beloved is mine". This has become the most popular option, in my opinion.

Sheva Brachot: these are seven blessings connected to joy. A few options here:

Sheva brachot in English with various kinds of translations read by individuals or by rabbi. Rabbi can also do the Hebrew with an English translation read by another person

"Seven Readings" with seven individuals reading very short proverbs, pieces of poetry, words from literature (Jewish or otherwise)

Sheva brachot saved for the reception or another party

Kohanic Blessing/Pronouncement/Breaking Glass

Priestly Blessing: some couples like the Priestly Blessing ("may God bless you and protect you") at the end. This is optional and can include being wrapped in a tallit, which is very warm and personal.
Pronouncement: this can be anything from "partners in life", "husband and wife", "consecrated to one another under the laws of Moses and the Children of Israel", "united in marriage" etc.

At this point the couple unites with a kiss and the ceremony is completed

.
Breaking of glass traditionally by one male partner. Can be made egalitarian with two glasses.
Please note that I am only able to perform Jewish rituals and not rituals or prayers from other religions. I am happy to assist you with finding ways that we can incorporate non-Jewish rituals and readings in a way that is respectful to those traditions.
Need Judaica?
Most Jewish weddings need judaica. I recommend ModernTribe for all your Jewish wedding gift and judaica needs. If you're looking for a kiddush cup, ketubah or other items, consider ModernTribe. Note that I receive an affiliate fee for promoting ModernTribe here on my site. The money generated from this affiliate marketing goes to support Kehillah, the Jewish community I serve.
About Co-Officiation
Unfortunately, I am unable to co-officiate ceremonies with other religious leaders (meaning two religious leaders officiating a ceremony at once).
I am more than happy to provide a Jewish ceremony before or after the ceremony of another religious tradition.
This is based on years of experience co-officiating and realizing that couples are genuinely much, much happier when they get to have ceremonies that reflect each other's backgrounds individually, instead of trying to put them together into one. I have married Christian-Jewish, Hindu-Jewish and Buddhist-Jewish couples this way, and they truly get the experience they deserve from it.